Pivotal Cloud Foundry (PCF): Leading the research and design of a cloud-native platform experience for application developers
Overview
PCF is a highly unique place to work because it consists of 80+ component teams, 15+ of which work together as Pivotal Application Services (PAS) to create the experience of a main user persona: the enterprise application developer.
I lead the research and design of the app developer experience on PAS, primarily by working across three component teams: the API, CLI, & UI (Apps Manager).
Common activities and practices I employ at PCF
stakeholder + user interviews

rapid prototyping & concept testing

facilitate design brainstorming & feedback sessions

collaborate with developers, product managers

lead cross-cutting work (2-5 teams)

journey mapping

educate and enable design-thinking throughout the organization
Case Study - Discovery Research: Identifying Developer Experience (DevX) Opportunities
Background
This research was to proactively discover problem areas in/opportunities for improving the app developer's experience with PCF, to help PCF teams more effectively target tracks of work that improve the speed and ease of customer app developer adoption of PCF.
Goals
Understand the problem space via stakeholder and customer interviews.

Provide a clear and suggested prioritization of the customer needs that fall under the DevX umbrella.
Process
Articulate our hypotheses of what DevX opportunities exist, and prioritize these hypothesized areas by mapping them to the company vision for the year 🗺️

👀👉 Affinity map of hypothesized opportunities

Create a research plan, with recruiting strategy, research timeline, and learning goals

Write interview guides for various interview participants (customers, stakeholders, field).

👀👉 Stakeholder Interview Script

Take notes in Sheets, transfer main takeaways to RealtimeBoard for synthesis

Synthesize findings, write research summaries

👀👉 Synthesis in Miro (3 images)

Share findings with stakeholders, divide & conquer next steps

🎉 Celebrate the conclusion of the research!
🔍 Findings
1. Multi-Foundation is a clear area to focus on for R&D
2. R&D should invest in easing and simplifying the app onboarding experience
⚡IMPACT
👉 Fast forward half a year, and more than half a dozen teams are collaborating and working on making this experience better! such as Apps Manager.
👉 Two unique groups in R&D who already work closely with customers took this on as a main project focus for FY2019/20 (Developer Enablement, Field)
Research artifact: DevX Journey Map
Researched and mapped the enterprise app developer journey across 4+ industries and 10+ enterprise customers (along with two other awesome design colleagues). This was a large endeavor, as it entailed tracking down and consolidating 3+ years of disconnected research.
These central research artifacts are used by PCF teams to build empathy for the enterprise app developer's experience and identify new business opportunities for customers, whom vary greatly by maturity, industry, and size.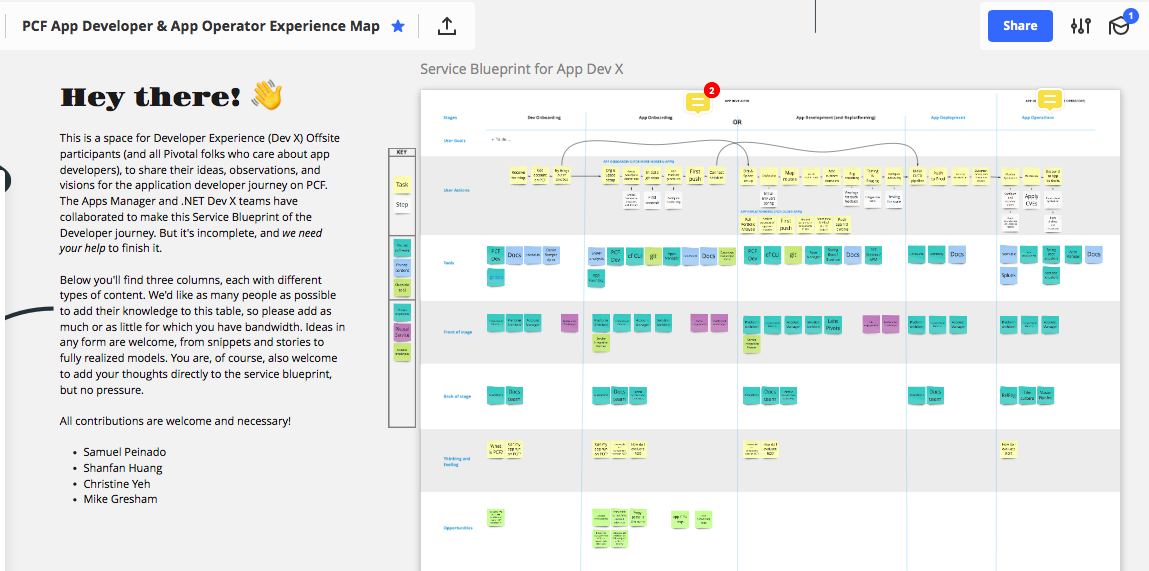 Go-to facilitation techniques & tools
Facilitation Techniques:
Risk v. Value 2x2 diagramming

Affinity mapping

Problem prioritization matrix

Storyboarding

Persona creation

Service blueprint

Risks + mitigations
Recruiting, research, & design tools:
Typeform

OpenStack

Miro (formerly Realtime Board)

Figma

InVision
Other tools:
Mixpanel

PCF's Command Line Interface (CLI)

Slack

Trello
What I'm most proud of
🤘 Moving from component team silos to cross-team, full-feature collaboration.
Through inclusion, design-thinking, and thoughtful communication, the PM, engineer, and I have increased the vigor and transparency of the API team's feature discovery, validation, design, and development processes.
This helps other teams that consume the API (e.g. the CLI, Apps Manager) be involved in new feature ideation and validation up front, resulting in a smoother client experience for them and a more thoughtful, holistic UX for app developers.
What I've learned
1 - 'Designing an API' is a loaded concept.
API design may not directly translate to UX design, but the entry points for end-users to learn about the API, the UI and CLI that end-users interact with to access the API, and the process of creating home-made tools that access the API directly, are all experiences for different personas that can and should be improved for the sake of user productivity & satisfaction, business value, and product reputation.
2 - Effective discovery research will always need to be persona or problem-specific.
At PCF, this also means discovery research always needs to span across more than one component team.
3 - No data? Use proxy metrics.
My number one struggle at PCF has always been the lack of user data (due to privacy and security concerns, and the nature of a CF foundation). The go-to metrics for knowing a new feature, redesigned workflow, or new piece of documentation have moved the UX needle aren't available anymore - so one has to be creative.

I've learned to measure my work and impact in terms of team culture shifts towards design-thinking; the frequency and value of user research; direct feedback we receive from interviews, Slack messages, and help tickets; and the kinds of questions teams begin to ask about, after a research or design cycle has been completed.
4 - Facilitation of the process may be even more valuable that actual completion of a process.
Some of the most meaningful impact I've had while at PCF was as a result of facilitating a conversation, a design studio, a research track, a new connection.

Well-designed UI and CLI experiences are good and important, but advocating for the right problem to be solved at the right time will go much farther towards ensuring a team or organization builds the right thing, for the right users.